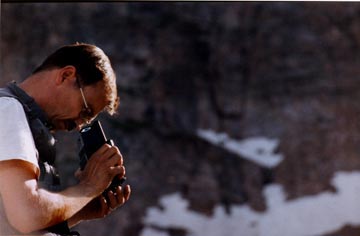 Okay, I guess I was practically born with a camera around my neck. In High School, the words I heard most often were, "Hey, Grubby - take my picture!" (My other hobby is collecting nicknames) and "Your lens cap is on!" (I knew better, since you can't see through a single-lens reflex with the lens cap on.) My camera strap was like a growth, permanently on my shoulder (except when I was in phys. ed.) The other comment I got a lot was, "Hey, Grubby, I like your purse!" At that point I started wearing it around my neck instead.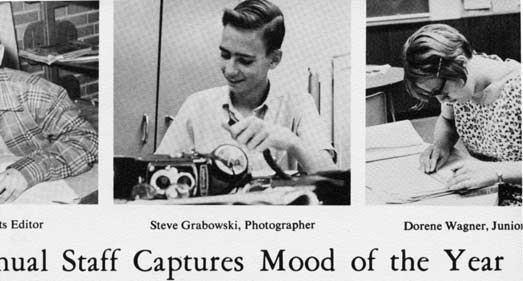 When you're an annual staff photographer, everyone either loves ya or hates ya, depending on whether they want their picture taken or not. The same hams were always there, wanting to get into the annual or the school newspaper. But the most fun was catching someone unawares, who didn't want their picture taken, doing something silly.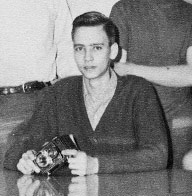 My first photo was taken of Hoover Dam over 40 years ago with a Kodak Brownie camera. My parents worked in the sheriff's office, and a deputy in the photo lab let me use some chemicals, and there I was, about age 8, processing my own black and white.
As a youth I spent innumerable hours studying scenic magazines, especially Arizona Highways, wondering if they actually paid those guys to tramp around the Grand Canyon and the national parks and monuments. "What a life," I thought!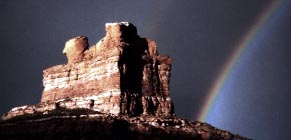 Lucky me - I got to spend my summers practically in the shadow of the rock you see above, on the Colorado - Wyoming border, tending chickens, horses, a milk cow, fishing and making friends with the chipmunks, cottontails, and big game. My ancestors settled here on the Colorado/Wyoming border in 1880.

Since then I have had a great time shooting the Rockies, the Alps, the castles of Europe, and the red rocks and snowy peaks around my home, Laramie, Wyoming.
Most people just see a fence, a sky, a field. I see a photograph. And I'm betting you don't like to have the same old ordinary photograph hanging on your wall just as much as I don't like to snap that same old picture.

I try to look beyond the ho-hum scene to capture the potential of creation. It takes time and patience - it takes a lot of driving or hiking to arrive at the scene, and I often spend hours setting up a shoot, or waiting for just the right moment. Sometimes it never comes, but sometimes I'm richly rewarded. I'm just happy I can freeze these moments in time and share them with you.

Thank you for taking the time to enjoy my favorite images. Wouldn't one look great in your living room, office, or bedroom? They're surprisingly affordable!
Sincerely,

Stephen J. Grabowski
Optical Fashions / Camel Rock Images
Laramie, Wyoming
1-888-PRO-EYES
grabophoto@westernphotography.com